Busy Bee Candles offer a huge range of incredible scented candles, wax tarts, wax melts and flame free home fragrance products.
Make your world smell amazing!
Handmade in the UK using natural waxes and incredible fragrance oils.
A revolutionary new home fragrance product from Busy Bee Candles!
No wick, no flame, no fuss. Just amazingly pure strong fragrance!
 Fragrance Time of up to 200 hours
Our Flagship Elegance Candle Range. Featuring long burn times and a crackling wooden wick presented in a beautiful tall apothecary jar.
Large – Burns for up to 150 hours.
Medium – Burns for up to 110 hours.
Small – Burns for up to 70 hours.
The Busy Bee Candles Classic Scented Candle range is just that. A classic!
Featuring cute jars, pure cotton wicks and of course, natural wax.  An everyday scented candle to add a cosy atmosphere to your home and of course, stunning fragrance.
Select large candles to fill larger rooms with fragrance.
Large – Burns for around 80-100 hours.
Medium – Burns for around 50-70 hours.
Small – Burns for around 30-40 hours.
Mini – Burns for around 8-12 hours.
Magik Beanz from Busy Bee Candles are the ultimate wax tart melt product. Our strongest fragrance formulation for amazing scent throw. Each pack of Magik Beanz will fill your entire home with fragrance with ease and for hour after hour!
 Each pot contains an average 15 Magik Beanz
Usage time – Approximately 20 hours per pot.

Our Soy Wax tarts are just brilliant. They last much longer than you might expect and will fragrance the average sized room with ease. Now presented in a lovely flip top pot for easy storage and keep fresh performance.
Lasts for at least 5 standard tea lights worth of burning. No need for water, just pop straight into your tart burner, light and enjoy.
 Burns for around 8-12 hours.
Hot shots are perfectly formed super charged Magik Beanz. 25% stronger than our already strong Magik Beanz and perfect as a low cost way to try out one (or several) of our scents!Use just 2 to 3 hot shots in your wax warmer for an explosion of fragrance!
Each pot contains an average 5 Hot Shots
Usage time – Approximately 10 hours per pot.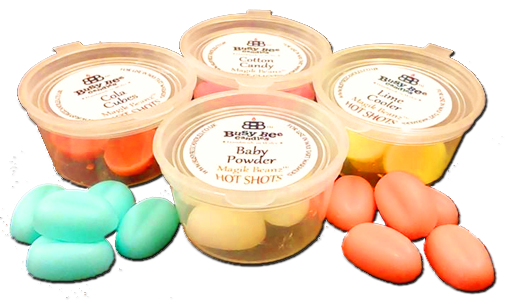 Our handmade soy wax tea lights are just great.  Each will burn for up to 6 hours and is made from the very same mixture we use for our candles. Heavily scented yet maintaining that subtlety associated with all our wax products.
Tea lights are available in a plastic tube sleeve with six individual tea lights. A perfect little gift or a treat for you.
Tea lights burn for around 8 hours each!
Room & Linen Freshener Sprays
Amazing! A wonderful way to add the gorgeous fragrance of Busy Bee Candles to your home in a convenient and instant way. Simply spray around your home as an air freshener, spray on bedding, clothes, curtains, in the car, almost anywhere and the result is amazing fragrance!
Each 100ml bottle contains approx. 700 sprays
Pure, undiluted Fragrance Oils. The same ones we use in our Scented Candles, Wax Tarts and Magik Beanz! Very strong!
Great to use on pot pourri and over water in an oil burner.
Fragrance Oils are supplied in 10ml dropper bottles